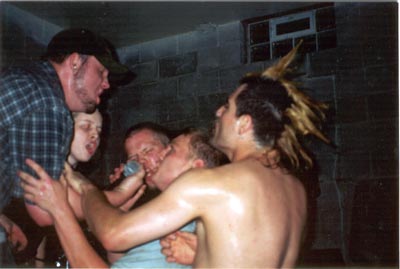 *More fall dates will be added real soon

Friday January 4th@ Firemans Building
Warsaw, IN 6PM $5
W/ Endthisday, Deadofwinter, Anah Aevia, Bestiary, Right Arm Death Threat

Saturday January 5th@ Luckey's
Lafayette, IN
W/ The Cancer Merchants and others TBA

Saturday January 19th in Moline, IL

Friday January 25th @ DA FOE in La Porte, IN (301 B Street)
W/Blue Collar Revenge Theroy (From KY) and The Ass Puppets

Friday February 8th in Louisville, KY

Saturday February 9th in Arlington Heights, IL

Sunday February 10th @ Sneaky Pete's in Ft. Wayne, IN

Saturday February 16th @ DA FOE in La Porte, IN

Saturday February 23rd in Milwaukee, WI

We are currently booking our Jan/Feb shows (Friday, Saturday and Sundays only). Basically what we are looking for is a a place to play( basement,hall, club, whatever) and that's it. We ask no guarantees (although we won't turn down gas money or more) just a chance to play, have fun, make friends. Even if you don't book shows if you can point us in the right direction that would be great. We are getting back to DIY hardcore where anything can happen and no one expects to get paid, just expect to have fun. We can trade shows too(we book them here in our area and have many contacts).

If you want to book RADT for a show use the info on the contact page.